Process payments on the go with PayJunction's mobile app. You must be an existing PayJunction customer to use this companion app on your iPhone or iPad.
Features
Key-in credit cards
Receive next-day deposits.
How to get the app
The app is available for free. Simply visit the App Store on your iPhone or iPad and search for "PayJunction".
Go to the App Store, on your iPhone or iPad.
Search for PayJunction
Click the icon to GET the app and provide your Apple ID or Fingerprint to verify the download.
The app will begin to download.
Once the app is installed on your iPhone or iPad, simply click on the icon to open the app.

How to use the app
The mobile app is available to use in DEMO mode. The demo version is can be used to test the app without processing live transactions. See instructions to use the app in demo mode.
Login
You can use your PayJunction login credentials to log into the app.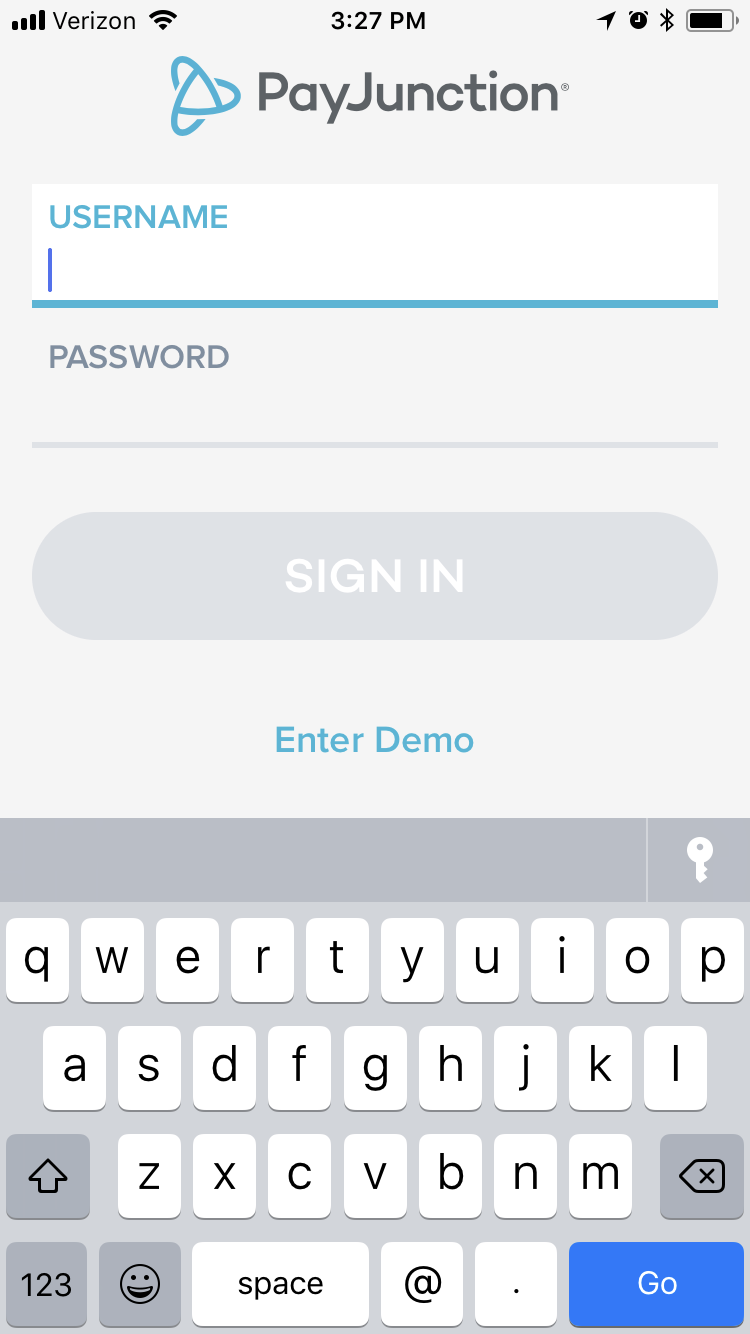 Process a Transaction
Enter Amount



Request Payment



Enter Payment Details



Your Transaction is Complete
Note: this screen will disappear after a few seconds and go back to the Enter Payment screen.

How to use the app in DEMO mode
Transactions that are processed in DEMO mode will not be processed or charged.
On the main login screen, click on the link named Enter Demo



Confirm that you would like to Enter Demo mode.



Enter Demo Credentials:

Username: payjunctiondemo
Password: demo123




Test card information
CC#: 4444 3333 2222 1111
Expiration Date: 1226
CVV: 999
Zip Code: 93101
More test card numbers are available here.
How to exit DEMO Mode
To exit DEMO mode just click the orange DEMO button on the top right: